We use cloth diapers and we love them. You will probably be seeing quite a few cloth diaper reviews on this site. I especially love "one-size fits most" diapers. We bought a bunch of different kinds when Sara was newborn and they still fit. Amazing. I also love pretty diapers.
So when I found
Alpha Omega Diapers
, I was so excited. A one-sized diaper that is pretty and has beautiful embroidery! Oh my goodness. Then I realized how amazingly affordable it was, and well I had to buy at least one and I am hoping to buy more soon.
This is the
diaper
that I got and we absolutely love it.
We actually use it as a night-time diaper because it is absolutely bullet-proof. Susan actually has snaps on the back of the legs and the front which makes for a very good fit, especially for a one-size diaper. And if that is not enough- the opening for the insert is different than any I have seen before and my husband is even able to stuff these diapers!
In addition to having an excellent diaper, Susan also provides wonderful customer service. What more could you ask for...well, you might ask for a
free wetbag
. Susan is giving one away to the first 10 customers to place orders. So I would hurry up and place your order now!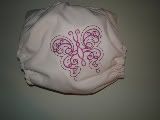 Rating:
Appearance- 5
Customer Service-5
Cost- 5
Quality- 5
Functionality-5
Overall-5