Do any of y'all remember
The Banana Splits
? It is a vintage cartoon that came out in the 60's. (Now, I must say that I was not around in the 60's so I don't actually remember them but it looks really fun.) The four characters, Fleegle (a dog), Drooper (a lion), Bingo (a gorilla), and Snorky (an elephant), were fun animal characters that brought music, fun, and comedy to kids.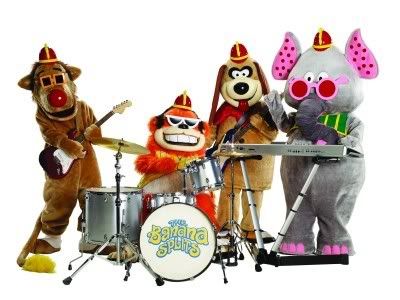 Well, they are coming back! And I have been checking out their
website
and it seems like it should be fun (well fun if you are a kid or a big dorky adult like me). On September 2, 2008 the Cartoon Network will begin to feature their music videos and comedy shorts between 9 am and 2 pm. If you don't want to wait until September 2, head on over to their
website
right now! You can see cool videos, hear great music and even become part of the club!
To celebrate the re-launch of this classics kid's show, I am giving away a limited edition (only 500 in existence), Banana Splits toddler t-shirt size 4t, made with organic cotton.
To enter, leave me a comment letting me know what you love most about their return. As always, you can get an extra entry by signing up for my feed (make sure you leave a comment letting me know that you are signing up):
. I will pick a winner on August 27.
Thanks to
Team Mom
for giving me a sneak peek at the Banana Splits and for the cool t-shirt to giveaway!
Never miss a review or giveaway- sign up here: