THE REVIEW:
I have already admitted (many times) that I am not a clean and tidy person by nature. But I am getting better at it, I swear (just don't come and look at my house, LOL). I love clorox wipes. They are so easy to use. Just grab one, wipe and you are done. How much easier can it get? Well, it just got easier- Clorox has just come out with Disinfecting Wipes in stylish Decor canisters. How does it make it easier, you may ask? Simple, I now keep them on the counter in the kitchen and whenever I finish anything I use one. My kitchen is cleaner than it has ever been. I actually just went out and got another canister of them because they are just that awesome! And the designs are actually really nice and should be able to look great in whatever room you want to keep it in.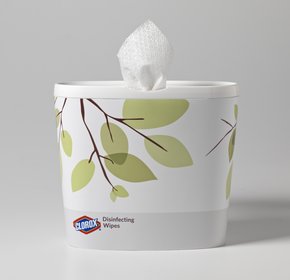 From Clorox:
With Clorox Disinfecting Wipes new Décor canisters, the days of hiding cleaning products under the sink are over. The new line of wipes, just introduced by Clorox, comes in eight designs that combine form, fashion and function to put cleaning within reach.

"When we put the task to the design team, we started by asking why can't cleaning be easy -- and easy on the eye?" said Lisa Partnoy, marketing manager, Clorox Disinfecting Wipes. "The new Décor line reinvents disinfecting, enabling you to say goodbye to messes with style."

But the new wipes are more than just a pretty face. In addition to redesigning packaging -- from the sleek shape and wider mouth of the canister to the graphic modern feel of the designs, the Clorox wipes team also created a new effortless single sheet dispensing system that makes cleaning as simple as flip, pull and wipe, without sacrificing any of the disinfecting power of their namesake wipes.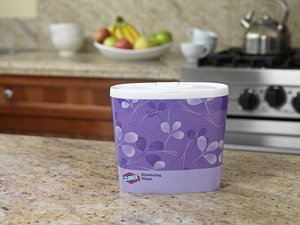 Are you ready to win? Two lucky winners will receive a coupon for a Clorox Disinfecting Wipes Decor Canister.
THE GIVEAWAY:
To enter:
Head on over to
Clorox Redesign Clean
and let me what your favorite decor is. Do not just say "Enter Me", I will delete these comments. If you are the winner, you have 3 days to claim your prize before I pick a new winner, so please remember to check back here.
Additional ways to get entries (you must leave me a comment for each extra entry, letting me know about it):
* Sign up for my feed:
(if you are already a subscriber, leave me a message letting me know in the comment section).
* Blog about this giveaway, come back here and post the link in the comment section.
* Follow me on Twitter:
* Tweet about this giveaway, copy it for me and post it here.
* Fave me on Technorati:
There are 6 different ways to enter, please leave a separate comment for each one.
Giveaway ends on April 30, 2009. This giveaway is open to readers in the US only.
This post was written for
Family Review Network
.
Never miss a review or giveaway- sign up here: